I've been posting on my other blog, rlmi.blogspot.com long before I got this email that told me there was a blog waiting here too!
So anyway, head over to http://www.rlmi.blogspot.com to read up about me. A lot of pictures too for you. And there are going to be updates on Favour (the pariah dog we rescued off the road).
My other blog is a self-proclaimed library. It has a lot of stories written by me, no stealing! But some of them, sadly will never finish without anyone to collaborate with me. http://www.reflibrary.blogspot.com. I guess I'll be more active here in IRememberLove.
[13/2/2008]
New dog alert! This time, it isn't a virtual dog. It's a real life dog, rescued by me (and my family). So here was Favour (named like that because we think God's favour is on the dog, that's why we could rescue him) sleeping right outside my gate like that was his house already for two mornings and nights. He eventually managed to wiggle himself into our hearts and we're keeping him for the time being. Why do I say for the time being? He may be adopted by my mother's collegue. I surely will stalk around his house and get updates on Favour's vaccinations, status etc. And make sure that he has a good enough yard for Favour.
Lara is just starting to get socialized. She was pretty annoyed at Favour's outgoing personality and he was quite submissive to her. They had a tug-o-war game today but she's still avoiding him and barking at him when she's in the house and he's outside (he stinks, and she probably is bragging that she's still queen of the house when she barks). Lara is pretty jeolous, tee hee. She already taught him how to play ball (by demonstrating, and then leaving him to play by himself), and teaching him to pee on the grass instead of our car tyres.
[a couple of weeks later]
Favour was not adopted by my mom's collegue because his daughther (which was an adult) was afraid of dogs. xD So anyway, my mum asked in her classroom, who wanted to adopt him, and an 17 year old girl decided to. She has 2 dogs, an English Cocker Spaniel and a Pekinese. The last day with Favour was a little hard. We were very much attached to each other. I made a video of his whole time with us (which for some reason, was unable to be uploaded in Youtube) and it was time to bring him to his new home.
He was not eager to get into our car, and he was even less eager to get out. Favour's new home had a nice lawn, the Cocker Spaniel wasn't house trained at all. Chained up outside. But I made sure that Favour was NOT to be chained or caged up in any way at any time. Until now, the girl (and her parents) have followed our "rules". Okay, now that that's done, here are some pictures of Favour <3.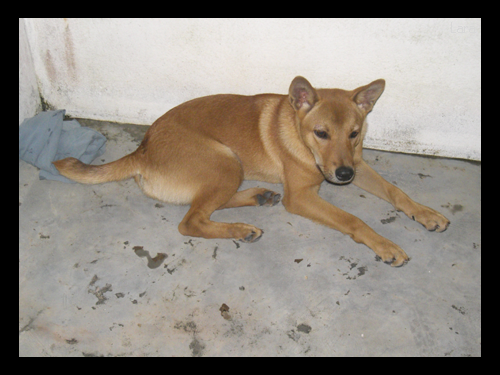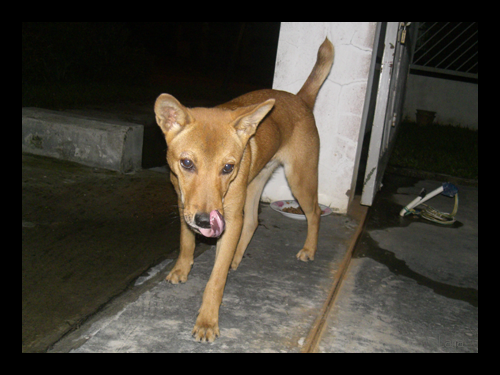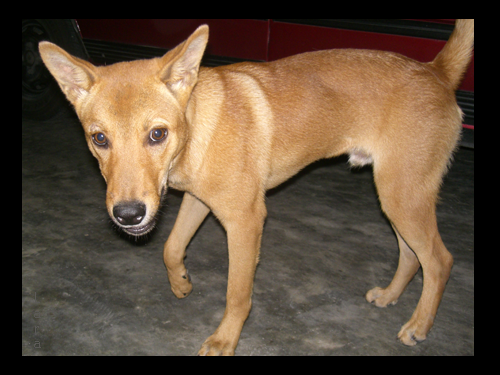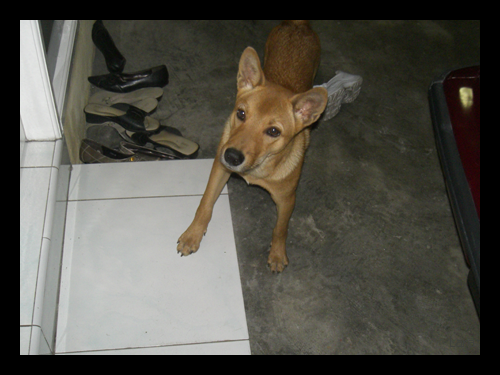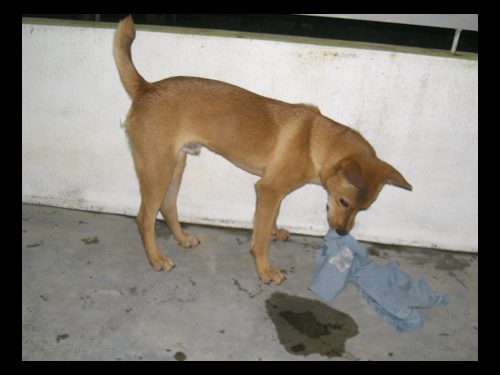 Click
here
to watch a short video clip with Favour as the main actor..well, he wants to be the main actor. I guess that's all for now.
♥ Renegade